Blog
Titans win barnburner over Lynx.
It's the last weekend of the regular season for the Titans. Three games to play in 3 days and things started off on Friday night in Sturgeon Falls against the Lynx. This was the 9th meeting between these two squads with the Titans outscoring the Lynx 59 to 26 in the first 8 games. The Lynx opened the scoring in the first on a power play. But the Titans replied with 2 goals of their own before the teams headed to the first intermission. Albin Palsson and Rylan Freed had the goals. Freed's goal was a piece of work to say the least. He stickhandled his way through the entire Lynx players and beat the goalie with a move that the goalie must be still looking for his athletic supporter.
In the second period, the Titans special teams took over as Hampus Andersson scored an unassisted shorthanded goal to make it 3-1. This was followed by two power play goals by Freed (40) and Joakim Braneby and now it was 5-1. A quick reply by the Lynx made it 5-2. Rylan Freed scored his third of the night on another power play to make it 6-2. But a couple of penalties later by the Titans and the Lynx capitalized on both to reduce the lead to 6-4.
The Lynx made it 6-5 with an early third period goal. But only 18 seconds later Braneby scored his second to make it 7-5. The Lynx then crept to within one at 7-6 with a goal with less than 5 minutes to play. With their goalie pulled for an extra attacker, the Lynx could not score the equalizer in the final seconds.
Shots on goal were 59-27 in favor of the Titans. Nick St-Jules got the victory in his first start of the season. Michael White had 4 helpers while Kansas Hart had a pair.
Next up is a Saturday night game against the Almaguin Spartans, who have clinched first place earlier this week. Then the Titans close out the regular season with a 2pm match up against the Ville Marie Pirates.
Similar Articles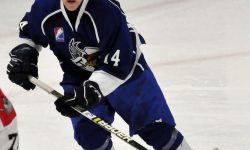 While the team had taken a 4-2 lead after 20 minutes, the Lynx came back into the game to level
Read More