Blog
The Temiscaming Titans are extremely pleased to announce that they have come to terms with their 2018. 4th round draft selection. 20 year old forward Axel Hallor from Nora, Sweden.
Alex is 6'0" 185lb forward that is able to play center as well as on the wing. His versatility will allow him to play both on the power play as well as in shorthanded situations. He's considered the swing man on the power play due to his excellent vision and superb passing ability. He also excels on face offs, which is an important part of the game. Win the draw, get control of the puck. Titans GM Nicolas Tourigny describes Axel as being a top player not only on the Titans but in the league as well. "Being a top caliber player that not only has the capabilities of putting the puck in the net, setting up his teammates but he can also be used on our penalty killing unit". Last season Axel played 15 regular season games for Nora HC in Sweden's Division 3 league, where he had 6 goals and 7 assists. He then was promoted up to Division 2 Hallafors IK for 8 playoff games and scored 4 times and had 5 helpers.
Axel's decision to come to Temiscaming and play for the Titans was based on the program offered by the Titans. Also one of his closest friends Joakim Braneby had nothing but good things to say about his experience in our little hockey community. Axel says "I want to be part of the Titans to help develop my game to the next level and want to contribute to my new teams success in the upcoming season".
Axel will be wearing jersey #91
Welcome to Temiscaming and the Titans !
Similar Articles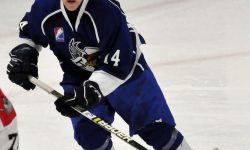 While the team had taken a 4-2 lead after 20 minutes, the Lynx came back into the game to level
Read More