Blog
Valkommen tillbaka Willy !
Titans welcome back Wilhelmsson
The Titans learned earlier today that Swedish forward Jakob Wilhelmsson will be returning for a second go around in 2016-17. The "Pesky" forward who has a knack of getting under the skin of opposing players and who also contributed on the scoresheet with an average of over 1 point per game. In 2015-16, he scored 24 goals and assisted on 36 others in 40 regular season games. In the playoffs he had 3 goals and 7 helpe…rs in 7 games. At 5'10", 165 lbs, Wilhelmsson is no stranger to the penalty box either with 84 min in penalties. An aggresive forechecker he has the ability to score as well.
Welcome back #64 !!
Similar Articles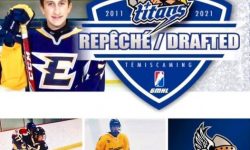 Titans announce the signing of our 2021 8th round at the last GMHL Draft, defenseman Karl Champagne (2004) 5'11 ''
Read More