Blog
After finding players in Manitoba, Saskatchewan and Nova Scotia, the Titans took to the sea to sail in the land of the Vikings, a road that the team knows so well.The Titans have come to terms with two 19-year-old forwards playing with FOC Farsta J20 in Division 1, center 5'9 " and 175l Calle Mogard and 5'9 " 170l Albin Palsson.
With the arrival of these 2 players, the Titans now have 16 forwards under contract, which will establish a "bus squad", that is to say a reserve unit. With a last third of the season that promises to be fiercely contested, often a few injuries or suspensions, the Titans have just made sure that they will not miss players in the final stretch. In addition, counting 4 reservists in lineup is also ensuring that players will provide maximum effort … for fear of being replaced by a bus squad member. A situation always appreciated by a coach.
In addition to newcomers Adam Edmans 21 (6'2 200l) and Quinton Rampage Henry 17 (6'3 225l), 2 giant-size wingers, the Titans include forwards Taupier-Freed-Brannvall-Provost Ross-Sundell-Rolfelt-Wilhemsson -Braneby-Vogt-Lijia-Smith and McKenzie in addition to the 2 new Vikings.
The next acquisitions will involve defenders. You can expect at least 2 more signatures on defence, adding to that of 18-year-old defenseman Kansas Hart (5'11 " 180l)from Amherst,Nova Scotia.
The first practice upon return from the holidays will look like a training camp for coach Bendi with at least 7 new players to insert in his group.
This is a job currently being done by the Titans' staff in order to put together the best team possible by the end of the season. 5 new players already + 2 others definitely coming.
So stay tuned … there is more to come …
The Titans, who occupy 1st position in GMHL's North Division, return to action in 2 consecutive home games on Friday, January 5th against West Nipissing and the next day against versus the Almaguin Spartans
Similar Articles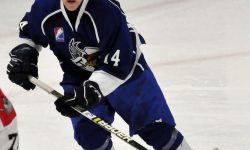 While the team had taken a 4-2 lead after 20 minutes, the Lynx came back into the game to level
Read More