Blog
What a game !
A Pirates vs Titans game that we will remember for a little while. With more ups and downs than a roller coaster ride had the Titans win 8-7 at the Centre in front of a packed house. The game was filled with emotion on both sides as the Titans led 3-1 after the first period and 6-4 after the second. At one point in the second the Titans led 6-1 but the Pirates scored three unanswered goals while both teams were playing 3 on 3.
The Pirates made it a one goal game early in the final period at 6-5. But Zacharie Maheu's power play goal restored a 2 goal cushion at 7-5. But less than 2 minutes later Ville-Marie would respond to make it 7-6. But then it was Maheu once more finding the back of the net on a 3 way passing play with his linemates Ethier & Turcotte, 8-6 with a little more than 5 minutes to play. Then while shorthanded the Pirates got to within one again with a little more than 2 minutes left. The Pirates pulled their goalie for an extra attacker but the Titans held the fort for the 8-7 victory over their Northern rivals. Marc-Antoine Turcotte had 2g-4a and sits first in the scoring race with 102 points. Zacharie Maheu had 2g-2a and holds down second place with 86 points. Yannick Ethier had 2 assists today and he's third in scoring with 79 points. Other goal scorers were Nicolas Tremblay, Misha Akatnov, Maxime Durocher and Brady Lacharity. Aleck Forcier and William Godbout both had 2 assists. Shots were 61-58 Titans. Bobby Cloutier got the W in goal.
With their win the Titans improve their record to 22-5-1 good for 45 points and they sit in top spot not only in the North division but overall in the league. The Titans have 2 games remaining before the holiday break. A road trip to Meaford on Thursday December 12th and then return home to finish off 2019 playing against the same Meaford team on Friday December the 13th.
Similar Articles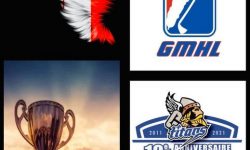 The Greater Metro Junior "A" Hockey League is proud to announce the addition of a National Championship Event to conclude
Read More