Blog
The Titans completed a home and home weekend series on a winning note against the West Nipissing Lynx with a 9-6 win in Sturgeon Falls on Saturday night. As it was the night before, the Titans fought back no less than four times during the game to get even with the Lynx. It wasn't until midway through the third period that the Titans finally had a lead in the game. The Titans top line of Simon Brannvall, Guillaume Taupier and Rylan Freed combined for 15 points. Freed (1g-6a), Branvall (2g-2a) & Taupier (1g-3a). Michael White had 2g and 1a while Joakim Braneby, Harald Sundell and Arvid Sjogren had the others. Gustav Rollfelt had 3 assists. Jason Goes got the win in goal. Shots were 61-55 Titans. Titans have now won 7 straight and sit in third place with 22 points.
On another note, Titans said farewell after the game to Vignir Arason and Kristjan Kristinsson who have decided to return home to Iceland. Good Luck to Vignir & Kristjan in their hockey back home.
Another big weekend upcoming for the Titans as they travel to Meaford on Thursday. Then a home game on Friday against the South Muskoka Shield. Then close off the weekend back on the road to face the Bradford Rattlers on Sunday evening.
Similar Articles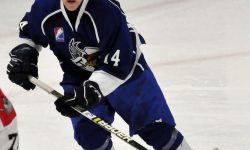 While the team had taken a 4-2 lead after 20 minutes, the Lynx came back into the game to level
Read More