Blog
Titans hand Spartans 8-1 loss
In a game that had no impact on the final standings of the North division, the Almaguin Spartans suffered one of their worst defeats of the season at the hands of the Titans. The contest was never in doubt as the Titans, who led 2-0 after the first period on goals from Simon Brannvall(35) and Rylan Freed (42). The score doubled in the middle frame as Braneby(21) and Freed(43) scored. The final 20 minutes was all Titans as they scored 4 more times including Braneby (22), Freed(44) for a hat trick, Colten Smith and Dayton Murray on a laser beam slap shot to make it 8-0. Murray, Braneby, Michael White, Harald Sundell and Freed also all kicked in with two helpers. While Alex Provost-Ross had 4 assists.
Emile Goulet's bid for a shutout was taken away with less than 5 minutes to play. Shots on goal were 58-33 Titans. The 3 stars were Rylan Freed, Alex Provost-Ross and Joakim Braneby.
The Titans will host the Ville Marie Pirates Sunday afternoon at 2pm for their last game of the regular season. The Titans with their 2 recent wins can only hope to tie the Pirates with 59 points with a win on Sunday. But Ville Marie has won the season series and would claim at least third place. A Pirates win over the Titans and a Rattlers loss to Meaford on Sunday night would see the Pirates jump over the Rattlers and take second place.
Prior to the start of the game 3 Spartans and one Titans player were recognized for their recent awards. Best defenseman Bryan Austin, Best forward Matt Labrosse and Best defensive forward Britton Whitehead from the Spartans and the North divisions Most Valuable player was Rylan Freed of the Titans. David Ford, President of the Spartans along with Denis Lacourse of the Titans posed with the group.
 .
Similar Articles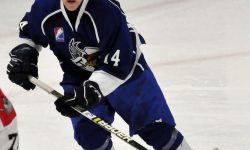 While the team had taken a 4-2 lead after 20 minutes, the Lynx came back into the game to level
Read More