Blog
Titans sign a pair of Quebec born players:
Philémon Gentes from Nicolet is a solid 6ft 190 lbs defenseman who is a good defender and can also contribute in the offensive end with his above average shot.
He played last season in the Junior AA league of Estrie/Mauricie. He picked up 2 goals and 7 assist in 17 games. He will help solidify the Titans back-end.
Ludovic Scott from Ste-Hyacinthe is a speedy 5f 9 165 lbs right handed center man. He possesses a motor that never stops and is very noticeable on the ice with his constant effort and intense play.
He played last season for the Syracuse Stampede of the NA3HL. He picked up 3 goals and 5 assist in 43 games with the US squad. He will bring much needed depth down the middle.
Welcome to both Philémon et Ludovic to the Titans
Similar Articles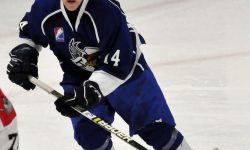 While the team had taken a 4-2 lead after 20 minutes, the Lynx came back into the game to level
Read More