Blog
The GMHL announced today the winners and runners-up for the individual awards and two players from the Titans have been recognized at their positions. First of all, the North Division Rookie of the year is Titans forward Zachary Lefebvre. Playing in 31 games this season, he scored 4 times and added 10 assists and had only 6 minutes of penalties. Zachary is a fine example of a player who shares his love for hockey as well as the importance of schooling. Attending high school in North Bay and busing home every day, Zachary would be at all Titans on and off ice activities. These awards are voted upon by all the coaches in the North division and each team cannot submit any players from their team, so this means that Zachary was noticed for his hard work on the ice.
For the Best goaltender award, Titans Veli Makinen was runner-up to the goalie from the Civics. He was second overall in league with save percentage of .930, tied for 3rd with 14 wins and 12th for goals against average of 3.28. Veli has started all three games against the Rattlers and has a .908 save % and a GAA of 3.66.
Congratulations to both players for their recognition of their skills by the league.
The Titans also have four individual team awards that are presented annually at the conclusion of the season. These awards are for:
Most dedicated, this award has been named for a former Titans player that spent several years here in Témiscaming and was a fine example of a player that was very dedicated to all aspects of being a better player. That player is Elliot Willetts.
Best team spirit award. This award will now bear the new name of the Scott Sovinsky best team spirit award. Scott has balanced a 42 game schedule and working full time for the last 4 years. Always showed at team activities with a big smile on his face. And when things were not going well, Scott was there to boost morale of his teammates or support them in their time of need.
Similar Articles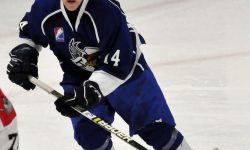 While the team had taken a 4-2 lead after 20 minutes, the Lynx came back into the game to level
Read More