Blog
Titans edge Huskies, 5-3
Following their convincing 14-2 win over the Blues on Friday night, the Titans were at again in a Saturday matinee at the Centre. The Seguin Huskies were in town for their last regular season game against the Titans and were sent back home on the short end of a 5-3 score. The Titans led 1-0 after the first, increased the score to 3-1 after 40 minutes. Both teams scored twice in the last frame giving the Titans the "W". Hugo Noller had 2 goals while Kurtis Klinger, Gustav Rollfelt and Ryder Murray rounded out the scoring. Dayton Murray, Ryder Nurray and Guillaume Taupier had 2 assists apiece. Andreas Morger took the win facing 21 Huskies shots. The Titans directed 49 shots towards the Seguin netminder.
The Titans now have the rest of the week to prepare for a big match up with the first place South Muskoka Shield on Friday night at the Centre. Game time 8pm
3 stars of game were Klinger, Noller and Dayton Murray.
Similar Articles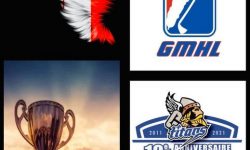 The Greater Metro Junior "A" Hockey League is proud to announce the addition of a National Championship Event to conclude
Read More