Blog
Titans return to Sweden
After announcing a dozen signatures of North American players, the Titans have crossed the pond to sign their newest addition, Swedish goaltender Johan Trång will now line up with the Titans.
Trång (2000) 5'11 " & 175lbs, has distinguished himself in Sweden by playing 3 consecutive seasons at the Jr level by allowing less than 2.70 goals per game. In 2016-17, his goals-against average was less than 2.00 in 11 games.
In 2017-18, his average was below 2.50 in 15 games.
Last year he had an average of 2.57 in 8 games before joining the pTitans GM Francois Harrisson has this to say about our newest player: "JT is a young goalkeeper who has been courted by several WSHL and GMHL teams, which demonstrates the interest that his potential has aroused".
"It was our Swedish scout Fillip Andreason who highly recommended him to us".
"It is quite remarkable that this young goalkeeper has just played three Jr seasons in the Swedish 1st Division and has managed to maintain goals against averages this low . It was certainly worth it to offer him a contract and make JT one of our goalkeepers for the upcoming season. Note that this will be the sixth consecutive season in which the Titans will field at least one Swedish player. The highest total in this respect is 10 Swedish players having worn the colors of the team in the same season. This record was set during the 2014-2015 season, the Titans edition that won the Russell Cup.
Välkommen till Temiscaming Johan
Similar Articles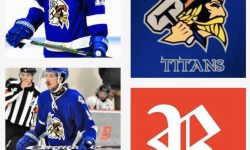 Titans announced we are sending Def William Godbout (2000) and Jeremy Brooks (2000) ON LOAN for the remaining of the
Read More