Blog
Titans send Bracebridge home singing the "Blues"
The Titans kicked off 2016 with a 14-2 whitewashing of the Bracebridge Blues Friday evening at the Centre. No less than 8 Titans contributed to the goal total. In his first game with the team Deverick Ottereyes showed the crowd some really nice moves around the net and several nice body checks. He picked up 4 goals and added 2 assists. Guillaume Taupier, not to be outdone by his linemate chipped in with a hat trick and 2 helpers. The other member of the trio Ryder Murray had 5 assists. That's 16 points for the line. Charlie Isserhoff was next on the goal parade with 2 goals and 1 assist. Singles came from Anthony Bedard, Michael Chuinard, Sakari Starkkila, Kurtis Klinger and newcomer Wes Monson. Danael Boutin-Blouin, also a recent arrival contributed with two helpers. Jacob Goldverg stopped 24 shots for the victory. The Titans outshot the visitors 60-26. The 3 stars of the game were Ottereyes, Taupier and Ryder Murray. Prior to the start of the game, Dayton Murray was presented with the January edition of the Temkin Campers award for his contribution on as well as off the ice.
The Titans now host the Seguin Huskies Saturday afternoon at the Centre with puck drop at 2pm.
Similar Articles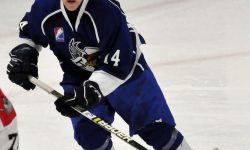 While the team had taken a 4-2 lead after 20 minutes, the Lynx came back into the game to level
Read More