Blog
Coming back for a second go around with the Titans is 18 year old defenceman Kansas Hart. The Amherst, Nova Scotia native arrived with the team in January prior to the trade deadline. Previously he had played 24 games with the Cumberland County Blues in his native Nova Scotia where he earned 11 points. The 5'11", 185lb rear guard played 14 games and picked up 6 assists with the Titans. Hart who is known for his combative style, was the deliverer of several heavy hits had the opposition forwards staying away from his sights. This style of play had Head Coach Justin Roy giving Kansas more ice time, which he used to display his excellent skating and hitting skills.
It's a feather in the Titans cap to have 18 year old players making their return to the team, Obviously Kansas appreciated his time with our team and our town to return for his second year.
Kansas will still be wearing his #17 from last season.
Welcome back Kansas.
Similar Articles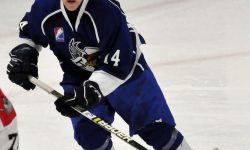 While the team had taken a 4-2 lead after 20 minutes, the Lynx came back into the game to level
Read More