Blog
Swedish forward Joakim Braneby returns to patrol the rinks of the GMHL for a second year, and to complete his internship in the Jrs.
The 6'1 " 205L forward scored 22 goals and 34 points in total in his first season in America, completing the last leg in style after acclimatizing himself to his new environment. He even finished the season by seeing regular action on the Titans top line.
Utility player is the best description for Joakim. Physically strong and very disciplined, showing equal skills in all 3 zones. Joakim's style of play will be an important element in the construction of the lineup of the Titans. The big viking returns to the Titans with the knowledge of what to expect for a European player coming over and playing hockey Canadian style. His return with the Blue announces a player whose ambitions are clear. Joakim will wear jersey # 93 this season.
Welcome back to Témiscaming Joakim!
Similar Articles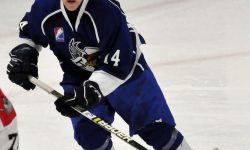 While the team had taken a 4-2 lead after 20 minutes, the Lynx came back into the game to level
Read More