Blog
What a game at the Centre
The war of Highway 101 was taking place Sunday afternoon as the regional rivals Pirates and Titans were playing for the 9th time this season. In a game that filled with a lot of emotion on both sides. The over 700 in attendance were on the edge of their seats for the entire game The Titans knew their fate as they will settle for 4th place, but the Pirates, with a win on Sunday and a Bradford loss would mean an even better placing for the Pirates. This game had more ups and downs than a roller coaster ride at Wonderland. The Titans scored first on Simon Brannvall's goal. But only 17 seconds later the Pirates tied the score at one. The teams played through a penalty filled first period with the Titans taking 6 to Ville Marie's 5. In the dying seconds of the first period, a scramble in front of the Pirates goal resulted in a Julien Vogt go ahead goal with no time left on the clock.
The second period, both teams combined for 8 goals but it was the Titans who outscored their rivals by a 5 to 3 margin to lead 7-4 going into the final 20 minutes. Special teams were working for both teams as the Pirates had 1power play goal and the Titans had 2. Charles Blandin, Adam Edmands, Alex Provost-Ross and Brannvall with a pair for a hat trick. The game was still a little chippy as the teams combined for nine more minor penalties.
In the final period, the Pirates let it all hang out as they dominated the entire 20 minutes as they had 4 power play opportunities but only capitalized on one. Emile Goulet was solid in goal, especially in the third as he faced 30 shots in the period. Overall the Pirates outshot the Titans 63-39. Edmands finished with 1 g-2a, while Harald Sundell collaborated on 3 goals.
The Titans now will start the playoffs against the Meaford Knights in the first round of the GMHL Russell Cup championship. The first game will definitely be at the Centre and could be as early as Thursday. This should be confirmed by Monday afternoon.
Similar Articles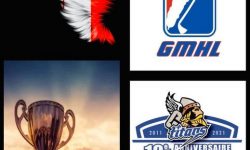 The Greater Metro Junior "A" Hockey League is proud to announce the addition of a National Championship Event to conclude
Read More