Blog
Titans welcome back Hampus Fagrell !
The Temiscaming TItans are extremely pleased to announce that Gothenburg, Sweden native Hampus Fagrell has committed to returning for his second season with the Titans. Hampus played in 30 games last season and had 6 goals and 12 assists. Nicolas Tourigny commented on his return by saying " with Hampus the Titans get a solid D-Man who does not shy away from the corners in any rink. He keeps a pretty clean area in front of his goaltender a…nd for a big player has decent moves and great skating abilities. Hampus was very active in the community helping out with lots of minor hockey players."
Welcome back to the Titans Hampus !
Välkommen tillbaka till Titans Hampus !
Similar Articles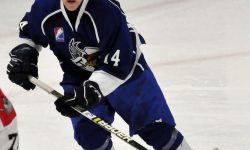 While the team had taken a 4-2 lead after 20 minutes, the Lynx came back into the game to level
Read More