Blog
The Temiscaming Titans are extremely pleased to announce that they will have their captain back for an unprecedented 5th year. Ryder Murray who's been the team captain for the past 2 seasons will be back to end his junior hockey career with the Titans.
Ryder owns almost every record in the Titans history:
Most regular season games: 156
Most playoff games: 55
Most penalty minutes: 256
Most assists in a season: 68
Most points per game average: 1.93
Most goals all time (reg & playoff): 121
Most assists all time (reg & playoff): 235
Most total points all time (reg & playoff): 356
3 all star game appearances
5th all time GMHL scoring.
Ryder brings not only his leadership to the team but also a maturity that has grown over his past years in Temiscaming. He's a tireless player who plays at a high intensity level in every part of the game. Ryder can become only the 6th player in the history of the GMHL to play in five seasons. Only one player has played in six. A complete 2016-17 season for Ryder would place him on the top of the list for regular season games played. The current record is 193 and Ryder has played 156. Our season lasts 42 games. Also if Ryder should repeat with another 100 point season, he will then become the "All time leading scorer in the GMHL (regular season).
Join us in saying "Welcome back again, Captain Ryder" !
Similar Articles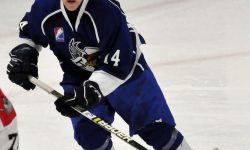 While the team had taken a 4-2 lead after 20 minutes, the Lynx came back into the game to level
Read More