Blog
In our last announcement of 2015, the Titans are extremely pleased to announce that 21 year old Charlton, Massachusetts native Wes Monson will be joining the club. Wesley, who plays forward at 6'2″ and 180lbs will bring a mix of skill and will certainly add some depth to our lineup says Titans G.M. Nicolas Tourigny. Monson comes to the Titans with several years of junior experience. In 2013/14 he played in the NSHL's New England Stars and had 13 goals… and 11 assists and 63 PiM in 37 games. In 2014/15 he played in the MHL"B" in Moldova for the Platina Chininau. Also spent some time with the GMHL's Grey Highland Bravehearts playing 14 games and scoring 9 times and adding 11 assists. He ended the season in the NA3EHL with the New England Stars U20 playing 35 games with 21 goals and 21 assists and 28 PiM. Monson will wear jersey # 98.
Wes, Welcome to Temiscaming and the Titans !
Stay tuned for more announcements still to come.
Similar Articles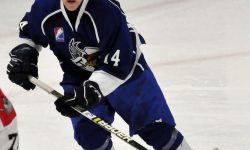 While the team had taken a 4-2 lead after 20 minutes, the Lynx came back into the game to level
Read More