Blog
Titans are thrilled to announce the signing of 2 excellent D-men.
Defensemen Philippe Gaudron (2000) 6'0'' 200 and Jérémy Brooks (2000) 6'2'' 170 have signed and chosen the Titans for their 2020-2021 Jr hockey season.
It's important to note this is a move that concerns playing with us on a regular base next season.
Both have to finish school first and are committed to their actual hockey team. Their plan is to become full time Titans next season.
Still, they are now eligible to give a hand time to time right away, if necessary, and as long as it doesn't interfere with school and their actual hockey team.
As a matter of fact, Philippe was in our line up in Ville-Marie, playing sporadically in 1st period.
We would like to wish Phil and Jérémy a very warm welcome to the Titans organization.
Similar Articles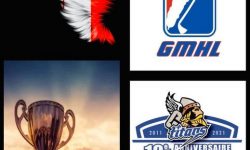 The Greater Metro Junior "A" Hockey League is proud to announce the addition of a National Championship Event to conclude
Read More