Blog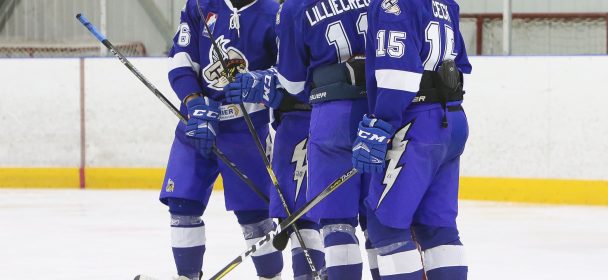 Titans take apart Sharpshooters
The Titans had their A game going Sunday afternoon as they handed the Ottawa Sharpshooters an 11-3 pasting. The Titans led all the way and the score and shots on goal showed it clearly. 50 to 20 was the numbers on the shot clock. Joakim Braneby led the attack with 4 goals and 3 assists, Dayton Murray had 1 goal and 3 helpers while Victor Mattsson had 2 goals and 1 assist. Axel Hallor, Zdenek Fabry, Nikita Sidenko and Julien Vogt had the others. Laurent Cloutier earned his third win of the season.
The Titans have now crept to within 2 points of first place Ville Marie. Currently on a 7 game winning streak with the last four being road wins. Another victory for Coach Roy's troops when they allow 3 goals or less to the opposition.
Another busy weekend of action coming for the Titans as they will travel to Alliston on December 6th to face the Civics, the back home Friday December 7th to face the South Muskoka Shield and then at 2pm Sunday December 9th the Knights of Meaford will be the visitors for the last game of the 2018 year.
Massacre à Ottawa Corral.
Cette fois les Titans avaient leur A1 Game et ils n'ont fait aucun quartier des Sharpshooters les écrasant 11-3.
Braneby avec 4 buts et 3 passes, Mattsson avec 2 buts et Fabry avec 1 but et 2 passes ont menés la charge pour les Titans qui jouaient privés de Lilliecreutz, Chenier et Hart.
3e victoire cette saison pour le jeune gardien Laurent Cloutier.
7e victoire consécutive des Titans qui ont gagné 16 de leurs 18 dernières parties.
Il s'agit d'une 15e victoire dans leurs 16 dernières avec 3 buts ou moins accordés.
3e gain en 3 jours.
Avec une fiche de 17-5-2 pour 36 points, les Titans viennent de rattraper le peloton de tête et ne sont plus qu'à 2 points des Pirates, tout en détenant 1 match en mains.
En route vers la maison après cette 5e victoire consécutive sur la route.
Similar Articles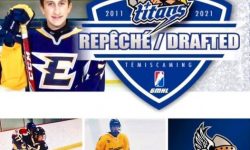 Titans announce the signing of our 2021 8th round at the last GMHL Draft, defenseman Karl Champagne (2004) 5'11 ''
Read More