Blog
The Titans managed a split of their recent weekend games starting off with a 5-1 win against the Haliburton Wolves on Thursday evening in Haliburton. Dayton Murray and Charlie Iserhoff had two goals each while Hugo Noller had the other goal. Jacob Goldverg had the victory. Titans outshot the Wolves 61-28.
Friday evening the Titans had a showdown with the second place South Muskoka Shield in Gravenhurst, The Shield had already defeated the Titans earlier in the season 5-3, The Titans outplayed the Shield but fell short by a score of 3-2. Power play goals from both teams dominated. The Titans got two and the Shield one. Dayton Murray and Scott Marshall got the Titans goals. Tomas Mastalirsky suffered the loss. The Titans dominated the game but could not capitalize on their many scoring opportunities. This was by far the best hockey game of season for the Titans. They will look forward to the next two games against the Shield as they will both be played at the Centre in Temiscaming. Titans newly signed played Kurtis Klinger, who had just arrived hours earlier on a flight from Northern California was in the line up and made his presence felt the entire game. Welcome to the Titans Kurtis !
The Titans will be participating in a fund raiser Saturday in Notre Dame du Nord in an effort to raise money for the minor hockey and figure skating associations.
Similar Articles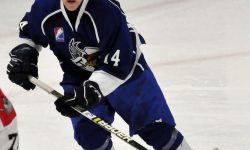 While the team had taken a 4-2 lead after 20 minutes, the Lynx came back into the game to level
Read More