Blog
As in 2014/15, the 2015/16 Temiscaming Titans roster has no less than 12 European born players in their lineup compared to 11 last year.  With the various languages, habits and customs to deal with, the Titans have seen that our players have bonded very well and very quickly.  Our little town might not have a lot to offer but on the other hand, with little or no distractions our players spend a lot of off ice time together. We encourage our players to do volunteer work in Temiscaming. We like to plan activities with all the team when it's permitted.  An example right after our training camp, the whole team hopped on the Titans bus and went to Toronto Blue Jays game.  For many of our Canadian players it was a first.  So you can imagine how these young men from all over Europe were amazed of the game, the crowd of almost 48,000 fans,the Rogers Center, the city of Toronto etc.  We have other outings planned for the players by the end of season. Another contributing factor that keeps our players happy is the excellent support and care that our billet families offer to these players that many are away from home for the first time.
Here's our list of European players:
#1 Andreas Morger, Sweden, #3 Ross Connely, Scotland, #15 Erik Liukko, Sweden, #17 Oskar Risinger, Sweden,
#19 Sakari Starkkila, Finland, #21 Charlie Hammerback, Sweden,  #27 Hugo Noller, Sweden,
#29 Patrik Kusnirak, Slovakia, #34 Tomas Mastalirsky, Czech Republic, #64 Jakob Willhelmsson, Sweden,
#66 Hampus Fagrell, Sweden, #91 Gustav Rollfelt, Sweden.
When you see them walking down the street wearing their Titans blue track suits.  Say Hello, Bonjour,
Halla, Hei, Ahoj, Awrite. And I'm sure you'll get a big smile on their faces.
Similar Articles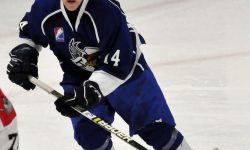 While the team had taken a 4-2 lead after 20 minutes, the Lynx came back into the game to level
Read More