Blog
Titans snare Lynx, 5-2
The Titans gave their fans something to cheer about on Friday evening as they swept the season series with the Lynx with a 5-2 win. The win allows the Titans to take over 5th place over the Almaguin Spartans. The Titans never trailed in this game leading 2-0 after first period goals by Guillaume Taupier and Larri Vartiainen. The second period saw the Lynx tie the score with two quick goals 31 seconds apart. But with less than 4 minutes to play in the middle period Marc-Antoine Arseneau fires his first of the game to send the teams to the final period with the Titans leading 3-2.
In the final period, Arseneau scored to make it 4-2 only 55 seconds into the period. And he also closed out the scoring at 18:49 with an empty netter for a natural hat trick. Ryder Murray had 3 assists. Raffaele Izzo earned the victory facing 32 Lynx shots. The Titans directed 56 shots towards the Lynx net minder. The game's 3 stars were Arseneau, Murray and Lynx goaltender Maksim Kuteinikov.
The Titans are back in action again on Saturday night as they will host the Seguin Huskies (12-25-1).
Similar Articles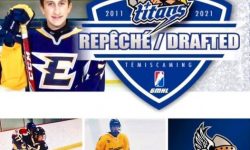 Titans announce the signing of our 2021 8th round at the last GMHL Draft, defenseman Karl Champagne (2004) 5'11 ''
Read More