Blog
Titans signing alert !
The Temiscaming Titans are very pleased to announce the return to the team for the 2018-19 season, Duchess, Alberta forward Colten Smith. The '98 born Smith arrived in Temiscaming last season and was an immediate hit with the team. Colten is a lunchbox player. He comes to practice and games ready to do what is asked of him, understands his role and accepts it with open arms. His contribution to the Titans is seen in his work ethic. He is a tireless checker and sees a lot of time in shorthanded situations.
This was evident as Colten was voted the "Most Dedicated Player" and received the Elliot Willetts trophy. Colten played in 38 regular season games and totalled 7 points on 3 goals and 4 assists.
Colten's said that his return for his second year was based on the on several things. Primarely the Titans organization, the owners, coaching staff and the best fans in the GMHL. The Titans are a 1st class team that treats their players in a way that makes a player feel, that they belong. "I like to compete and for me, this is important as the Titans have high expectations every single year" says Colten.
Welcome back Colten #96
Similar Articles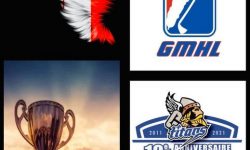 The Greater Metro Junior "A" Hockey League is proud to announce the addition of a National Championship Event to conclude
Read More