Blog
Titans sign Swedish D-Man
The Temiscaming Titans are extremely pleased to announce the signing of 19 year old defenseman Jacob Walter. Walter is from Malmkoping, Sweden. Jacob, who stands 6'4" and tips the scales at 250lbs will certainly be a formidable presence on the Titans blue line this season. As per Titans GM Nicolas Tourigny "Jacob is a big physical defenseman who excels on the PK. He is really good a reading the play and cutting off passes. He can also chip in offensively with his good shot from the point".
Jacob describes his style of play as being a defender with above average offensive skills. I love to play a physical game     in our zone and switch to the offensive zone where my stick handling and my decent shot can contribute to the Titans offense says Walter. Jacob goes on to say "I've heard many great things about the Titans. They have proven themselves as being a winning organisation year after year. In saying that my decision to join the GMHL and the Titans was a real easy one to take.
Last season Jacob played 17 games with Katrineholms J18 Div.2 scoring 7 times and adding 9 helpers. He also played 22 games with the J20 Div. 1 team, Katrineholms where he scored 2 goals and added 10 assists playing in 22 games.
Welcome to Canada, Temiscaming and the Titans Jacob !!
Similar Articles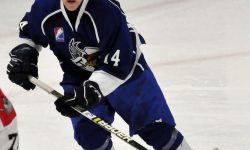 While the team had taken a 4-2 lead after 20 minutes, the Lynx came back into the game to level
Read More