Blog
The Titans are extremely happy to announce the return of 19-year-old goalkeeper Émile Goulet to Témiscaming.
Émile played in 19 games last year, with a 3.67 goals against average and a respectable save effeciency of .907.
The young man from Sherbrooke chose the Titans to compete in his second Junior season, which he had previously played with the Thetford Mines Filons at the college level.
…
Staying in goal, the Titans have awarded a contract to 17 year old Laurent Cloutier from North Bay. Laurent took part in the team's training camp last year and persevered, returning to try his luck again this year. The recent Titans camp was good for the goalkeeper from North Bay. Laurent appeared very well at the camp and thus earned his signing with the team.
The goalkeepers of the Titans this season will be Timothé Cachard, 20, who played with Grenoble last season, the French champions of the 2017-2018 season, Émile Goulet and Laurent Cloutier.
The Titans also announce the signing of 19-year-old defenseman Brock Ledoux. Former North Bay Bantam Trappers AAA, Brock has since played for the past 3 seasons with the Algonquin ECS in high school hockey. Solid on his skates, the of 6'1 " has forged a record of 3 goals 3 assists in 18 games while playing for the Barons.
The Titans wish to welcome back Émile Goulet (#31) and welcome to newcomers Laurent Cloutier(#32) and Brock Ledoux(#77).
Similar Articles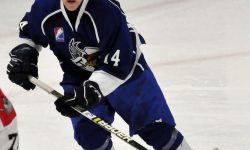 While the team had taken a 4-2 lead after 20 minutes, the Lynx came back into the game to level
Read More