Blog
The Titans swept the Wolves out of round one on Saturday night with a 16-0 shutout and now advance to the second round which will start in Temiscaming on Thursday February 25th at 8pm. Opposition is yet to be determined. Patrik Kusnirak faced only 9 shots for the shutout. 92 shots by the Titans !!!
Scoring came from: Scott Marshall 4g, Michael Chuinard 2g-3a, Guillaume Taupier 2g, Kurtis Klinger 1g-4a, Ryder Murray 1g-6a, Dayton Murray 1g-2a, Nicolas Jasmin 1g-2a, Hugo Noller, Wes Monson & Anthony Bedard 1g-1a each, Scott Sovinsky 1g. Jakob Willhelmsson and Sakari Starkkila each had a pair of assists. The Titans outscored the Wolves in the three game series 49-1.
3 stars were Scott Marshall, Ryder Murray & Kurtis Klinger.
Similar Articles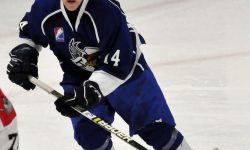 While the team had taken a 4-2 lead after 20 minutes, the Lynx came back into the game to level
Read More