Blog
Titans sign 2nd round pick Hampus Andersson
The Temiscaming Titans are very pleased to announce the signing of this year's 2nd round pick from the GMHL draft, Hampus Andersson from Gothenburg, Sweden.
Hampus is a big 6'2, 170lbs right handed defenseman. He had 5 points and 71 penalty minutes last season for Jarnbrotts HK J20. Titans G.M. Nicolas Tourigny comments on his addition to the Titans
"He will solidify our defensive core and will also be able to chip in offensively. He will be a physical presence in… front of the net and on the boards. We look forward to seeing him in Titans blue next season." Welcome to Temiscaming and the Titans !!
Similar Articles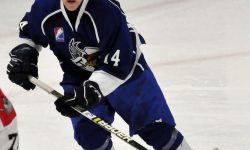 While the team had taken a 4-2 lead after 20 minutes, the Lynx came back into the game to level
Read More