Blog
It wasn't pretty but Titans get the "W"
The Titans once again showed some hard work and it paid off with their first win of the season with a 5-3 win against the Bradford Bulls.
 The newly formed Braneby-Hallor-Scotting trio from Sweden set the tone by scoring 3 of the first 4 goals of the game
Alexandre Provost-Ross. Titans #19 scored twice and worked hard throughout the match in all three zones backchecking and landing some heavy hits
Goaltender Emile Goulet faced 41 shots including several of the spectacular version in the second period.
 The team clearly lacks punch on the first 2 lines. It is also no secret that the club would not hate to add some elements in attack if the opportunity was to arise.
 A defender in the top 4 would have his place to complete the Murray-Odin-Hart trio.
 The lack of "scorers" exposes more the defense.
 On the other hand 3 positive things emerge so far from the game of the Titans:
 1- much more ardor and energy than
last season. The effort is there.
 2- we feel a good spirit between the players. That's important.
 3- In spite of everything, the Titans play for .500, with 1 point more than last year after 3 games.
 But as the great philosopher said …
 "We feel that there will be no easy ones.
Similar Articles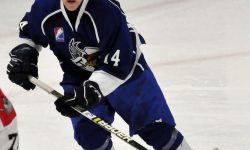 While the team had taken a 4-2 lead after 20 minutes, the Lynx came back into the game to level
Read More