Blog
Titans keep rolling !
The Titans 14 game winning streak was on the line this afternoon as the Titans travelled to Seguin to face the Huskies. Early on, things looked like the streak would be halted as the Titans trailed 2-1 after the first period. Michael White had the lone goal for the Titans on the Titans first shot of the game. The Huskies made it 3-1 before the Titans started their comeback late in the middle period. Harald Sundell and Simon Brannvall with 32 seconds to play in the period tied the game at 3 goals apiece. Two more goals by Simon Brannvall gave the Titans a 5-3 lead. Seguin reduced the lead to 5-4 with less than four minutes to play. Pulling their goalie for an extra attacker failed as Guillaume Taupier delivered the last nail in the coffin as he buried the puck in the empty net from center ice. Apart from his hat trick, Branvall collected 2 assists. His line mates Rylan Freed had 3 helpers while Guillaume Taupier kicked in with 2 assists. Raffael Izzo got the win between the pipes. The last time the Titans had a 15 game unbeaten streak was in 2014-15, the year they won the Russell Cup ??
The Titans now get almost 10 days before they play their next game in Ville Marie on December 7 against the Pirates.
Similar Articles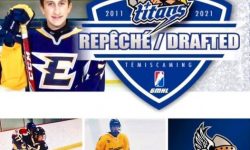 Titans announce the signing of our 2021 8th round at the last GMHL Draft, defenseman Karl Champagne (2004) 5'11 ''
Read More