Blog
The Titans played inspired hockey this evening as they soundly defeated the North division leading New Tecumseth Civics by a score of 7-3. Three 3rd period unanswered goals sealed the win.
Zacharie Maheu led the scoring with 3 goals. Other goals came from Aleck Forcier, Xavier Sincennes, Joey Croteau and Alex Provost-Ross.
Éloi Bouchard gets the win. The Titans end the mini 2 game road trip earning 3 of a possible 4 points playing against the two top teams of the division. Their record is now 11-4-1 for 23 points and places them only one point out of second place.
Next up are a home game Saturday night at the Centre against the South Muskoka Shield and finish off the weekend with a Sunday 2pm matinee in South River versus the Spartans.
Go Titans!
Similar Articles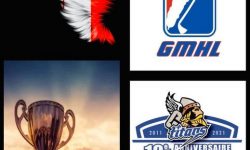 The Greater Metro Junior "A" Hockey League is proud to announce the addition of a National Championship Event to conclude
Read More