Blog
 The Titans top line manhandled the lynx this afternoon at the Center and collected 17 points in an unequivocal victory of 8-4.
 Rylan Freed (29-35-64) continues his compelling push to the top of the GMHL's best scorers, and this afternoon he has seen nothing short of a dream match … scoring 6 goals and assisting those of Guillaume Taupier (20-17-37) and Simon Brannvall (18-22-40). Simon Brannvall had 1 goal and 4 assists while Taupier had 1 goal and 3 helpers. Thomas Leonard also had 2 assists. Jason Goes faced 24 shots for the win. 3 stars were Freed, Taupier & Brannvall.
 This line of the Titans has been on a torrid scoring pace for a few weeks, the cohesion of these 3 players is exceptional.
 Friday at New Tecumseth, Taupier had scored 3 goals, in addition to another the next day in South Muskoka and that Freed had collected 7 points against the Civics.
 With the win this afternoon, the Titans (17-4) take over sole position in first place in the North Division and carry their winning streak to 13 consecutive games, by far the best of the Greater Metro.
 In fact, Bendi's boys have lost only 1 game since October 1 and it was a 3-2 defeat at Almaguin despite 71 shots on the goalkeeper.
 This afternoon, the Titans directed 60 pucks toward the Lynx Goaltenders.
 Let's finish by saying that the Titans have just swept a second consecutive weekend of 3 games with 6 victories including 4 on the road.
The Titans next game will be on Friday November 24th as they will meet the expansion Fergus Force for the first time. During this game which coincides with local Lions Club telethon. We ask all our fans to bring a toonie that will be collecting to donate to Xmas food basket fund for the Lions Club. And then on Saturday November 25th, the Titans will be participating for the first time in the Richelieu Club Santa Claus Xmas parade. And to top of the evening, a FEDERAL HOCKEY LEAGUE game will be played at the Centre featuring the North Shore Knights who will take on the Danville Dashers.
Similar Articles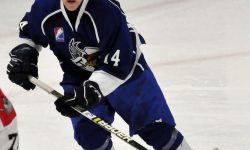 While the team had taken a 4-2 lead after 20 minutes, the Lynx came back into the game to level
Read More