Blog
So far this season the highway 101 battle has been a one sided affair as Ville Marie has taken 7 of the 8 games played so far which includes the 5-3 loss tonight in Ville Marie. Harald Sundell got the Titans on the board first but less than 2 minutes later the Pirates tied the score. While on a power play the Pirates scored to lead 2-1 after the first period. In the middle period, the Pirates outscored the Titans two to one, with Joachim Braneby getting the goal. The teams headed to the 3rd period with Ville Marie leading 4-2.
Only 54 seconds into the last period Julien Vogt brought the Titans to within one goal. But once more the Pirates replied with an insurance marker to make it 5-3. Alex Provost-Ross had 3 assists. Emile Goulet took the loss
The game was the usual emotional type between these two rivals. 91 minutes of penalties were called with the Pirates getting the majority, 54 min to 37 min. Titans were outshot 47-29 by the Pirates
The Pirates and Titans will play in the very last game of the season at the Centre on Sunday February 18 with a 2pm start. This game could very well decide 3rd and 4th place in the North division.
Next game for the Titans is Thursday Febraury 8th at 8pm at the Centre as the Seguin Huskies will be their opponents.
Similar Articles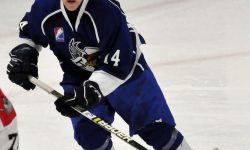 While the team had taken a 4-2 lead after 20 minutes, the Lynx came back into the game to level
Read More