Blog
The Temiscaming Titans are extremely pleased to announce the return of our captain, Dayton Murray for his last season of junior hockey.
The 6'0" 170lb mobile defenceman and natural leader will wear the Titans blue for the 2018-19 season bringing to a close a stellar junior career.
Winner of the Russell Cup in 2015 with the Titans and in 2017 winner of the Copeland Cup-McNamara trophy cup for NOJHL league champions. Also he participated in the Central Canada championship for the RBC Cup in that same year. Dayton earned All Star status in both leagues as well as suiting up with the OHL's North Bay Battalion for 4 games and earned 2 assists.
Dayton has played 177 games with the Titans and accumulated 169 points.
Over and above the accolades and the statistics, it's his natural leadership ability and character player that make Dayton a player to build a franchise around. In his short stint at the end of last season, Dayton demonstrated his ability not only as a weapon on the offensive side but also how much his defensive play contributed to the Titans end of the regular season success.
Dayton's decision shows the hockey world that he is the type of leader that good players want as a teammate.
Welcome Back #20 Captain Dayton !
Similar Articles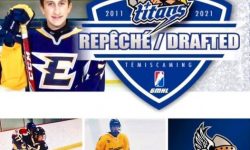 Titans announce the signing of our 2021 8th round at the last GMHL Draft, defenseman Karl Champagne (2004) 5'11 ''
Read More