Blog
Titans Xmas draw winners / Tirage de Noel des Titans
1st prize was a magnificent painting of Bobby Orr by Mikeal McCue, a lovely afgan and gift basket full of goodies. The winner was Nicole Chenier.
2nd prize was a painting of the Temiscaming waterfront by John Presseault and was won by Lucille Collins of Sudbury.
3rd prize was a hand made Titans rug by Ken & Therese Richards and a gift certificate from Crevier and was won by Claude Desrochers.
Special thanks goes to Mariette & Rheal for time and effort to make this draw a big success every year. We appreciate your involvement in the Titans !!
Similar Articles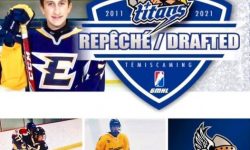 Titans announce the signing of our 2021 8th round at the last GMHL Draft, defenseman Karl Champagne (2004) 5'11 ''
Read More