Blog
Titans win in shootout, tie series at one.
It was only game 2 of a 7 game series but for the Titans it was a must win situation heading into Bradford down 2 games to none would have been a tough hill to climb. But the Titans sent their fans home happy with a 4-3 shootout win over the Bradford Rattlers. This afternoon the Titans came out of the gate with more speed and fierce forechecking and it paid off only a minute into game with a goal by Yannick Ethier. Later in the period while on a power play, Reingold Shtemke made it 2-0 Titans. But with 2 minutes to play the Rattlers reduced the lead to 2-1.
In the middle period, two quick goals had them with their first lead of the game. But 38 seconds after their second goal Misha Akatnov with a laser beam shot beat Babin to tie the game at three goals apiece. A scoreless 3rd period settled nothing. An extra five minute period would be played and still no goals were scored. The teams then got ready for a shootout. The first 3 shooters on each side failed to score so extra shooters would be needed. Akatnov the 4th shooter beat Babin. Then Morris of the Rattlers scored to tie the SO. Next up was Nicolas Tremblay who buried the puck low blocker side to give the Titans the advantage. It was then left to Mike Dyke to shoot on Bobby Cloutier. Cloutier came out of it making a big save giving the Titans the much needed win. Shots were 43-41 Titans. 3 stars Bobby Cloutier, Nicolas Tremblay and Nikita Sakhno of the Rattlers.
The Titans now head to Bradford for games #3-4 on Wednesday and Thursday night.
Similar Articles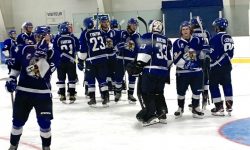 Your Titans played a strong game tonight and after taking a 5-0 lead in the first period, the team cruised
Read More