Blog
The Titans were hosting the Knights of Meaford on Thursday night at the Centre in game 1 of the best 2 of 3 playoff series. The Titans skated off the ice with a 6-1 victory and now lead the series 1-0 and can eliminate the Knights on Saturday night in Meaford.
Justin Roy's group were never in any doubt of the opposition as they directed 52 shots towards ex-Titans goalie Raffaele Izzo. Meanwhile Titans netminder Emile Goulet continued with… his solid play stopping 28 0f 29 shots and earning the games 3rd star. The Titans got scoring from 6 different players in this game. Leading 1-0 after the first period on a last minute goal from Alex Provost-Ross. The Titans increased the lead to 3-1 in the second with goals by Adam Edmands and Dayton Murray while the Knights were serving a 5 minute major. Goulet's bid for the shutout was ruined by a Knights goal with a little more than 6 minutes in the period. In the final 20 minutes the Titans added two more goals, one by Kansas Hart in the empty net and 20 seconds later Joakim Braneby put the last nail in the coffin.
Rylan Freed ended up with 3 assists while Simon Brannvall had a couple. Provost-Ross, Braneby, Murray, Harald Sundell and Michael White all had one assist each.
3 stars were Rylan Freed, Michael White and Emile Goulet. Should a game 3 be required it will be back at the Centre Monday February 26 with a 7:30pm start.
Similar Articles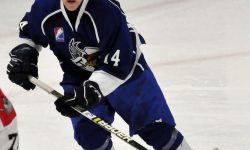 While the team had taken a 4-2 lead after 20 minutes, the Lynx came back into the game to level
Read More