Blog
The Seguin Huskies were at the Centre on Friday night fresh off a big road win over the Pirates on Thursday night with plans of halting the Titans 13 game winning streak. Unfortunately, the Titans had other plans already drawn up for the Huskies. The Titans struck quick only 1:42 into the start of the period while on a power play as Rylan Freed scored. A little over 2 minutes later Julien Vogt made it 2-0. The Huskies cut the lead in half at the 13:41 mark. But 27 seconds later Rylan Freed his second and 31st of the season to end the first period with the Titans leading 3-1. The Titans blow the game open in the second period with 4 unanswered goals to send the teams to the second intermission with the score 7-2 Titans. Jakob Wilhelmsson, Joakim Braneby, Arvid Sjogren and Tyran McKenzie with his first goal of the season and first ever junior goal. In the final 20 minutes, a total of 5 goals were scored in the last 5 minutes of the game with the Huskies getting three to the Titans two to make the final score 9-5 Titans. Scoring their second goals were Julien Vogt and Jakob Wilhelmsson. The shots were 53-35 Titans. Emile Goulet earned the victory. The game's 3 stars were Julien Vogt, Jakob Wilhelmsson and Kyle Torgerson from Seguin, who had 3 goals.
The Titans were also on the stage at the Lions Telethon following their game where they sand a short Xmas song and presented organizers with a donation of close to $400. It was toonie night and during the game some people passed a collection through the crowd.
Next game for the Titans is Sunday afternoon at 2pm as they travel to Seguin to take on these same Huskies.
Similar Articles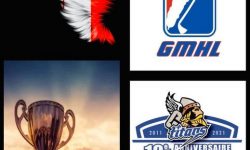 The Greater Metro Junior "A" Hockey League is proud to announce the addition of a National Championship Event to conclude
Read More