Blog
 On Sunday afternoon the Titans played with heart and determination, even with injuries, 4 players absent, and beat their rivals in the North Division, the Almaguin Spartans by the score of 5-2.
This victory allows the Titans to take sole possession of first place in the GMHL North Division, 2 points ahead of the Spartans while having 1 game in hand on the latter.
Again today, power forward Simon Brannvall was dominant with (2g-1a) while pushing the opponent to take 2 penalties against him. He had 10 points in 3 games over the weekend (7g-3a).
It was the match of the triple crown as Sundell and Braneby (the latter in front of his parents from Sweden to see him play) ended the match with (1g-2a) each.
Another big match for Michael White and Loïc Odin on defense.
I emphasize the merit of 2 players in particular.
Captain Guillaume Taupier played despite a serious injury that was to keep him out for the 3 games of the weekend. Guillaume forced the team's management to let him play, even if he added a full shield to his helmet. He showed leadership and, even diminished by this injury, he played hard and played with heart. Guillaume will now have time to heal and enjoy a well deserved rest.
The second most deserving player is goalkeeper Aaron Young. Put yourself in this guy's place 2 for minutes:
He plays his first games in a new league, a caliber higher than the OPHL, he does not know his teammates, he did not see his opponents play, his new team is decimated by injuries and absent players and more, he has to play 3 games in less than 72 hours.
Result? 2 wins and 1 loss, in addition to playing with calm and control in this particularly important match this afternoon.
 The least we can say is that he delivered the goods. Following the game the entire Titans organization sat down for a traditional holiday meal.
Similar Articles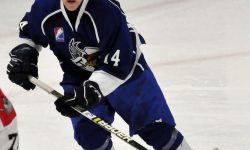 While the team had taken a 4-2 lead after 20 minutes, the Lynx came back into the game to level
Read More