Blog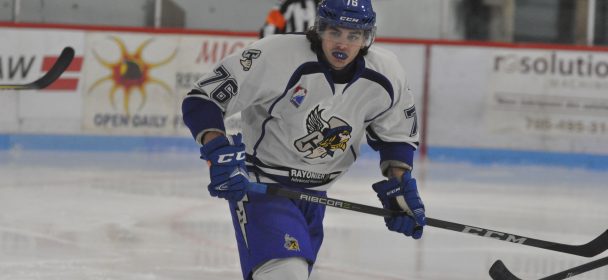 In what could be described as the Titans best outing of the season on Thursday night, they dealt the defending Russell Cup champions a 9-3 drubbing. Coach Justin Roy had only 4 defencemen available due to a suspension to Kansas Hart and newcomer Adam Cech, who was acquired earlier in the week from the Spartans was not able to play.
The Titans spread the scoring around with seven different scorers. Leading the way was Alex Provost-Ross with 2 goals and 3 helpers while Julien Vogt and Dayton Murray each had 1 goal and 3 assists each. Getting a goal and one assists each was Joakim Braneby and free agent signing Zdenek Fabry from the Czech Republic. Axel Hallor scored the other goal.
Emile Goulet played a strong game making 32 saves with at least 6 big saves during a Spartans 5 on 3 advantage. The 3 stars were Provost-Ross, Fabry and Dayton Murray.
The Titans are on the road tomorrow for a game against the South Muskoka Shield in Port Carling.
Prior to the start of the game, Alex Provost-Ross was presented with the player of the month of September award.
Similar Articles
Titans showed up tonight and played a much better game than the day before. Unfortunately they lost 5-4 against the
Read More