Blog
In a game that will not go down in history, the Titans doubled the West Nipissing Lynx by 6-3 on a very very chilly Friday night at the Centre.
Sweden's Joakim Braneby gets a hat trick, but the final result was due in large part to Aaron Young's excellent goalkeeping game tonight.
The big netminder made at least twenty saves on shots from the slot area. He did not steal the 1st star of the game tonight, he earned it.
Although he did not have his usual zip after a 6 week absence, Rylan Freed had 3 assists.
The offensive play of the game was performed by captain Guillaume Taupier, a goal scored with less than 7 seconds to play in the 2nd thanks to a real good individual effort.
In his first outing with the Titans and his first match for 3 months, Adam Edmands scored the first goal of the game. Other Titans goals came from the sticks of Guillaume Taupier and Victor Lilja shorthanded into an empty Lynx net while the Titans were 2 men short.
Shots were 52-40 in Titans favor. 3 stars were Aaron Young, Joakim Branneby and Nick Proulx from the Lynx,
The Titans are still 1st in the North Division with 46 points in 29 games, against 46 in 31 games for Almaguin.
The Spartans beat the Pirates 5-2 tonight at South River.
The Spartans arrive at the Center to face the Titans tomorrow night 20:00.
Big game in perspective.
Similar Articles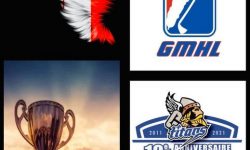 The Greater Metro Junior "A" Hockey League is proud to announce the addition of a National Championship Event to conclude
Read More