Blog
2 goals and 1 assist from Ilya Badanin, combined with the team's very good overall play, led the Titans to a 6-1 win over the Durham Roadrunners.
In front of the best crowd of the season, Titans easily gave themselves a 5-0 lead in the first period before focusing a little more on their defense in the last 40 minutes of play.
Laforge, Shtemke and Grégoire all have 1 goal and 1 assist while William Godbout also scored.
The Russell
will therefore be in the Center this Saturday evening when the Blue will have a chance to win a 2nd Russell
in 10 years of history.
Thank you to our loyal fans who sported white or blue and made lots of noise throughout the game. This atmosphere contributes to the team success, no doubt. Let's do the same for game 4 please.
GO Titans!
Similar Articles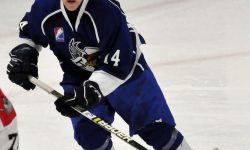 While the team had taken a 4-2 lead after 20 minutes, the Lynx came back into the game to level
Read More