Blog
Titans edge Spartans 6-5.
Two goal performances by Misha Akatnov, Drew Warkentine & Yannick Ethier gave the Titans a 6-5 win in South River.
An exciting game from start to end until Ethier knotched his second with less than 2 minutes to play. The Spartans gave their best effort so far.
Bobby Cloutier came in on relief from Éloi Bouchard.
The Titans now have a 2-0 series lead and can close out the series Sunday afternoon at the Centre and advance to the division finals. Game time is 4pm.
Go Titans !
Similar Articles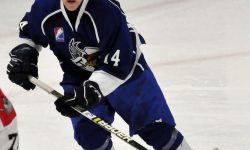 While the team had taken a 4-2 lead after 20 minutes, the Lynx came back into the game to level
Read More