Blog
Titans signing alert
We were supposed to announce a forward from Switzerland but we decided to cross the border into France first.
The Temiscaming Titans are extremely pleased to announce the signing of Timothé Cachard, 19 year old goaltender from Grenoble, France. The 6'1" 210lb netminder played for the U20 national league of France. Cachard describes himself as very competitive and uses his size to his advantage to be in the best position in front of his net.
Last season h…e played in 15 games for les Brûleurs de Loup de Grenoble, which runs an excellent program based out of Grenoble. The Titans netminder will be visiting Canada for his second visit as he represented Grenoble when he was 12 yearsold at the Tournoi International Pee-Wee de Quebec. Timothé decision to chose the Titans was made after speaking to former players. And also he chose the Canadian hockey experience de further develop himself and hopefully get to the next level.
Cachard will be wearing jersey #1
Welcome to Temiscaming and to the Titans Timothé !.
Similar Articles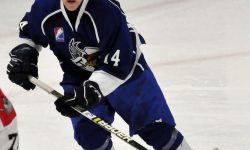 While the team had taken a 4-2 lead after 20 minutes, the Lynx came back into the game to level
Read More