Blog
Titans lost 5-3 to the Bradford Rattlers in what was another close game between these 2 teams, the Rattlers having scored the 5th goal when coach Sébastien recalled Éloi with the intention of replacing him with
Titans led 1-0 after the 1st period, then the Rattlers dominated the 2nd scoring 4 goals.
The 3rd period was that of the Titans who brought the score to 4-3, before the North Division champions scored a 5th goal in the last seconds of the game.
Laforge-Hardy-Stegmann scored tonight.
Your Titans will face Southern champions North York Renegades. This game will decide the Bradford's opponent at the
Russell Final on Sunday afternoon.
Another very good crowd tonight. Thank you very much for your support.
Standings after this 2nd day at the National Championship goes as follows:
Bradford 2-0 (12-7)
Titans 1-1 (12-8)
N York 1-1 (10-10)
H Meadow 0-2 (6-15)
Similar Articles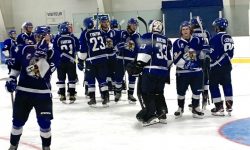 Your Titans played a strong game tonight and after taking a 5-0 lead in the first period, the team cruised
Read More