Blog
The Titans played their last 2 games of 2015 at the Centre in Temiscaming on Friday December 18th and Saturday December 19th. The total score for both games was 18-0 for the Titans. Back to back shutouts by Andreas Morger on Friday over Bobcaygeon Storm 13-0 while Tomas Mastalirsky blanked the Seguin Huskies on Saturday afternoon 5-0. On Friday evening the Titans completely dominated from start to finish outshooting the Storm 71-12 on their way to a 13-0 rout. Ryder Murray had 3g-4a, Hugo Noller had a hat trick, Scott Marshall 1g-5a, Guillaume Taupier 1g-4a, Charlie Iserhoff 2g, Jakob Willhelmsson 1g-2a, Nicolas Jasmin 1g-1a and Kurtis Klinger 1g.
On Saturday afternoon, the Titans held the opposition scoreless for a second consecutive game with a 5-0 win over the Seguin Huskies. Two goals from Guillaume Taupier led the attack while singles came by Hampus Fagrell, Kurtis Klinger and Dayton Murray. Shots were in Titans favor 52-16. 3 stars were Taupier, Bedard and Klinger.
The Titans now head into their Christmas break and will return to action on January 8th against the Bracebridge Blues.
Similar Articles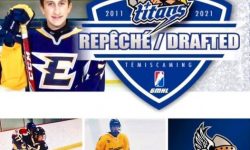 Titans announce the signing of our 2021 8th round at the last GMHL Draft, defenseman Karl Champagne (2004) 5'11 ''
Read More