Blog
Titans deal Civics 7-4 setback
The Titans were playing a Sunday matinee on October 15th versus the North division second place team the New Tecumseth Civics. Trailing 4-3 after a sloppy first period where 7 goals were scored on only 29 shots. Goals came from Victor Lilja, Harald Sundell & Rylan Freed. Jason Goes who started the game was replaced at the start of the second by Emile Goulet. Coach Bendi's pep talk in between periods must have been inspiring as the Titans emerged from their dressing room and dominated the remaining 2 periods outshooting the visitors 43 to 11 and adding three goals in the second and a single goal in the final frame. Julien Vogt, Jakob Wilhelmsson, Freed and Sundell with their second each. Sundell, Gustav Rollfelt, Hampus Andersson and Alex Provost-Ross all had 2 assists. Emile Goulet got the win in relief. Total shots on goal were highly in the Titans favor at 60-23. The 3 stars were Sundell, Freed and Gauthier from the Civics.
The Titans will be on the road next weekend. Friday night in Gravenhurst to face the Shield and then on Saturday a short ride up highway 101 to battle with the Pirates.
Prior to the start of the game, Julien Vogt was presented the September Temkin Campers award for the player who excels both on and off the ice. Lyne Ducharme presented Julien with the plaque.
Similar Articles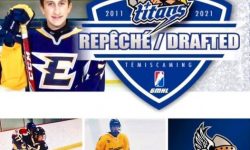 Titans announce the signing of our 2021 8th round at the last GMHL Draft, defenseman Karl Champagne (2004) 5'11 ''
Read More