Blog
Titans got back to the winning track tonight with an 8-1 win over the South Muskoka Shield.
Titans fans discovered our new player Ričards Brinecs this weekend.
Tonight the spectacular Latvian scored 4 goals in addition to being an accomplice of 2.
Nathan Hardy also distinguished himself with 6 points including 1 goal.
Maxence Lemaire completed his evening of work on this line with 1 goal and 2 assists
Maxime Lavoie (1-1) and Émile Lavallée completed the scoring.
Éloi Bouchard got the win. He held the fort for the first 7 minutes of the 2nd period as the team suffered a short slump.
Despite yesterday's 5-4 loss to Division leaders Bradford Rattlers, the team played really well this weekend and is clearly heading in the right direction,
Similar Articles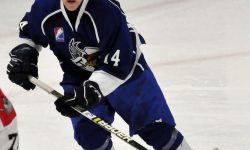 While the team had taken a 4-2 lead after 20 minutes, the Lynx came back into the game to level
Read More