Blog
Titans at the GMHL draft.
The GMHL was hosting their 12th annual draft on Sunday May 14th at the Harbour view golf club in Gilford, Ontario. Pascal Labranche and Denis Lacourse were representing the Titans. There was a total of 12 rounds and the Titans come out of the draft with a total of 17 players, with five coming via trades made in the past.
                                     Repêchage 2017-18 des Titans
Pascal Labranche et Denis Lacourse se sont rendus à Gilford en Ontario pour représenter les Titans au 12ième repêchage de la GMHL qui s'est déroulé le dimanche 14 mai. Le repêchage comptait un total de 12 rondes et les Titans ont amassés 17 joueurs. Cinq qui sont venus par des échanges d'années précédentes.
Here are the Titans picks – Voici les choix des Titans.
Round 1 Ronde 1
From North Bay Joe Whittet (F), 2000, North Bay Trappers GNML
From Temiscaming Bailey Chenier,(F),2000, North Bay Trappers GNML
Round 2-Ronde 2
From Switzerland Gian-Andri Gegesschatz,(D), 1997, U20 JrA
From Italy Paolo Gardiol,(F), 1997 U19 div 3
Round 3-Ronde 3
From Sweden Lucas Tidblad, (F), 1997, Swedish J20 Div 1
From Courtice, On Aaron Young (G), 1996, PJCHL
Round 4-Ronde 4
From Shoal Lake,On Jeremy Ledoux (F), 1998, CPJHL
Round 5-Ronde 5
From Beloeil, Qc David Ouellette (D), 1996, CCHL2
Round 6-Ronde 6
From Sweden Axel Von Eyben (F), 1997, Swedish J20 Div 1
From Val d'Or, Qc Loic Trépanier (F), 2000, Midget BB Val d'Or
Round 7-Ronde 7
From Latvia Arturs Krists Kruklitis (G), 2000, USP3HL
Round 8-Ronde 8
From Val d'Or, Qc Pierre Antoine Nicol (F), 2001, Midget BB Val d'Or
From Nova Scotia Hunter Graham (D), 2000, Cole Harbour Midget AAA
Round 9-Ronde 9
From Long Island, NY Jake Drucker (D), 1998, New England Wolves EHL
Round 10-Ronde 10
From Germany Morten Braun (G), 1998, EHV Schonheide Div 3
Round 11-Ronde 11
From St-Catherines, On Brenden Bouvier (F) 1999, GOJHL-CPJHL
Round 12-Ronde 12
From Bolzano, Italy Damian Bergmeister (F), 1998, Gheirdeina II Italy 3
Similar Articles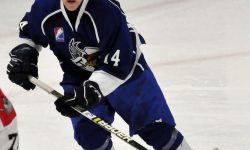 While the team had taken a 4-2 lead after 20 minutes, the Lynx came back into the game to level
Read More