Blog
 The Titans were back at it again today as we would like to announce the signing of another big forward. 6'3″ 225lbs forward Quinton Henry from Roseau River First Nation, Manitoba. Quinton was obtained through a trade with the London Lakers where he played 4 games and had 1 goal. Last season he played in the US3PHL for the Kalkaska Rhinos where he had 5 goals and 3 assists in 12 games. Titans GM Nic Tourigny comments on the new acquisition,"Quinton i…s a big strong forward that will add a much needed physical presence to our lineup, He will also be counted on to chip in in the scoring department."
Quinton will be in the lineup for the Titans return to the ice in 2018 and will be wearing jersey #12.
Welcome to Temiscaming & the Titans Quinton !
Similar Articles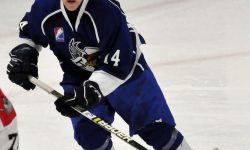 While the team had taken a 4-2 lead after 20 minutes, the Lynx came back into the game to level
Read More